Business Systems
Bose Professional Systems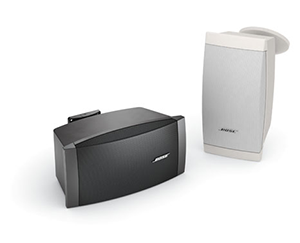 The design of any Audio system is often the key to encouraging clients to enter the premises. For example when walking into a High End Car Showroom that is playing loud music with too much Bass will make it unlikely that the client will feel at ease and make a purchase. However that same music when played in a branded teenager's clothes shop will create some excitement to draw young people through the door. Then if you are relaxing in a Country Pub a warming sound creates an ambience of welcome the minute you walk through the doors. We are the experts in sound psychology that will make a difference to your business.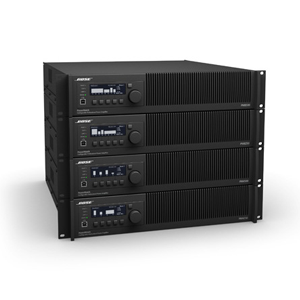 The speaker colour, speaker size, expected volume levels, quality of sound, speaker positioning, control equipment location, ease of use, management control all have an effect on the end result of providing a professional sound system to any Shop, Office, Factory, Church or Public Building.
You will need to consider hidden and/or limited volume controls so duty staff cannot over adjust volume and equalisation levels that have been set, sound reverberation to your neighbours or joining shops/offices , speakers that may discolour after a short period of time, the speakers working their way loose due to audio vibrations, backup documentation clearly stating how to use the system and what buttons be pressed or not, dust and particle collection on equipment reducing it's lifespan and reliability resulting in costly service calls, domestic equipment being fitted that will not last in a commercial environment. If there is awkward positioning of control equipment and amplifiers where staff either cannot find it, trip over it or use it as a coat rack.
Bose Professional Equipment and dF Audio Ltd have solutions to all of the above by working closely with you ensuring that the speakers are not only the right ones for the job but they are correctly positioned by calculating the angle of dispersion, the SPL (Sound Pressure Levels), tapping (volume setting) and required power in order to drive the speakers to produce a high quality output and an even distribution of sound.
Typical Equipment Installed:
Flush Mount Ceiling Speakers
Wall Speakers
Subwoofers
Volume Controls
Source Select Controls
Amplifiers
Apple iPods
MP3 Players
Line Level Mixers
Multizone Amplifiers
Streaming Music Players
Hard Disc Audio Players
LCD Screens, Plasma Screens
Microphones for Paging and announcements
Projectors and Projector Screens
Cables and Connectors
dF Audio's Service
dF Audio Ltd utilises its strong relationships with only qualified Electrical contractors ensuring the correct cabling is laid for the equipment. This relationship also ensures that where there is a requirement for Fire Alarm System shut off they are always provided to the latest regulations.
Safety
Site Specific Risk Assessments and Method statements to Nebosh standards are produced for every job to ensure compliance with the latest Health and Safety and CDM regulations.
Installation
In order to provide a prompt service at all times to all area's dF Audio Ltd may occasionally utilise its strong relationships with local qualified electrical contractors in order to complete 1st fix cabling within given time scales, budgets and site requirements. On all CDM sites White Hard Hat, Green high Visibility vest and Safety Boots will be worn. Other Safety equipment will be utilised subject to the task in hand.
Commission
A full commission service is available once the store is open with duty staff to ensure a correct understanding of operation is achieved. Handover documents may also be provided at this stage ensuring the client is totally satisfied with the system and correct preventative maintenance procedures are followed. Impedance readings are taken upon the completion of every 100V installation to ensure amplifier and speaker compatibility.
Maintenance
Maintenance contracts are available upon request and subject to existing equipment suitability. Service calls can also be placed on a reactive basis and of course all installation work comes with a full 12 months warrantee. Equipment warrantee is subject to the manufactures specification.